Permitted Development Single Story Extensions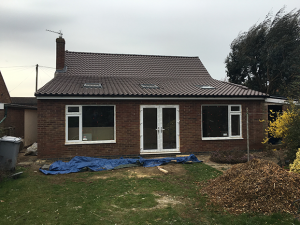 Under Permitted Development – i.e. things you can do to your house without planning permission – you can add an 8m extension to a detached house and a 6m extension to an attached property.
However, there are some other criteria that apply to Permitted Development single storey extensions:
The extension may not sit forward of the front elevation of the existing property
Materials used in building and finishing the single story extension should be similar to those used in the existing property
If the extension sits within 2m of a boundary, the roof must not be higher than 3m
If the extension sits beyond 2m from the boundary, the roof must not be higher than 4m
Where extending to the side of a property, the width cannot be greater than half the width of the existing house.
Side extensions are not permitted in Conservation Areas or Areas of Outstanding Natural Beauty.
The design of your single storey extension will dictate the cost, appearance and ultimate usefulness of the project. Before you start, you will want to know that the project is cost-effective and whether it will add value to the property.
So it really pays to make sure you're happy with it before you start work.
Single storey extension footprint
Often determined by the space required within the property, when you talk to the team at Alan Currall Architectural Services, you will find out the extent to which the footprint is defined by factors such as how close it is to neighbouring boundaries, light orientation, garden position and where existing windows are positioned.
Roof designs for single storey extensions
While a small or narrow design extension can suit a mono or duo pitched roof, your architectural specialist will advise you how narrow the spans can be. You will want to look at options including:
A very low pitch roof
A flat roof
An intersecting pitched roof
Doors, windows & rooflights
The style, position and size of windows, doors and rooflights in your single storey extension will be critical to providing great light to the interior. As your choice of windows and doors can be constrained only by any impact on neighboring boundaries, architectural style and aesthetics are the driving factors.
If you would like to talk to us about designing a single storey extension under Permitted Development rules, call Alan J Currall Architectural Services today on 01536 393505.